Island trip for holidays! 假期去哪儿?佛山赏岛攻略请收好
2017-09-29 Source:Foshan China
天气渐凉,转眼又到了入秋时分。佛山以岭南水乡之称闻名,江河密布,水面上安静地漂浮着许多小岛,每天限定的船儿载着村民游客来来往往。趁着周末,坐船登岛,来享受一趟清凉的秋日之旅吧~
The weather is getting cooler as the Autumnal Equinox is coming soon. Foshan is known as Lingnan waterside village, which is covered with rivers. There are many tranquil islands. Ferries carry villagers and tourists to and from. Go to these islands by boats and enjoy a cool autumn trip at weekends!
海寿岛 Haishou Island
海寿岛依西江而生,素有"南海小蓬莱"之称,是南海渔家风光的集大成者,袅袅风情惹人醉~绝对是闲来一日游的最佳之选!
Located in the West River and known as "NanhaiSmall Penglai (fairy isle)", Haishou Island is the epitome of attractive fishing scenery in Nanhai, which makes it the best choice for an one-day trip!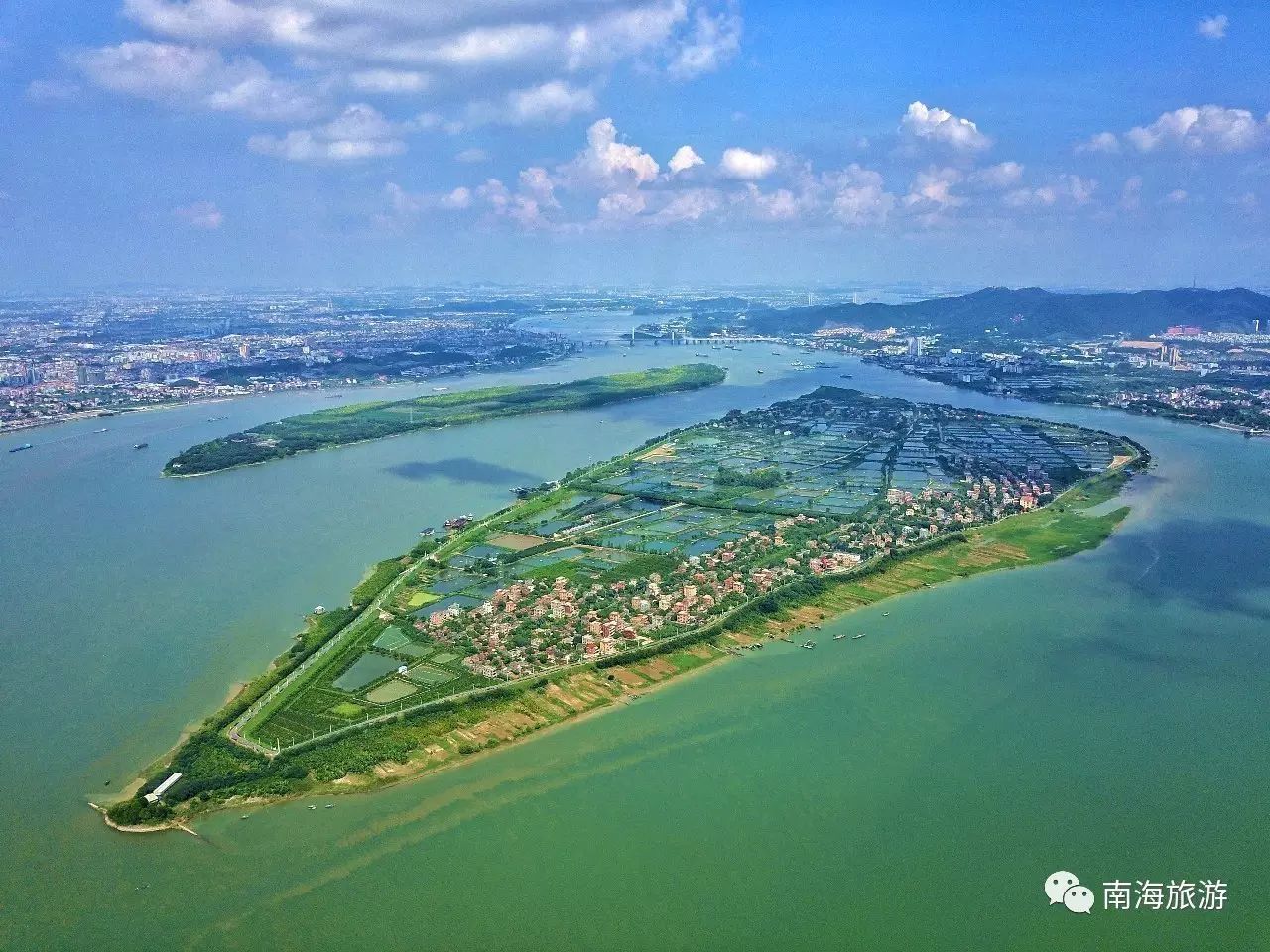 游人登岛,在林荫大道上或徒步,或骑行,体验桃花源般的生活~原生态的小岛清新十足,在这儿呆上一天都感觉怡然自得~
Reaching the island, walking or riding along a boulevard, tourists can experience a rustic life described in Peach Blossom Spring. People will feel very relaxed if they spend a day on such a refreshing natural island.
即使走累了,无需费力寻找,江边早已排满了各式农家乐餐厅,任君挑选。在这儿,边看江景晚霞,边品尝渔民新鲜打捞的河鲜,一流!
After walking, tourists can have a rest inall kinds of rural restaurants by the riverside. It is a wonderful experienceto enjoy beautiful sunset view by the river while tasting fresh seafood caughtby fishermen.
旅客指引 Tourist guide
岛上徒步:没有具体的徒步路线,可绕着外围堤岸行走,也可穿过岛上乡间小路漫游。
Walking: There is no specific walking route.Tourists can walk around the peripheral bank or wander across lanes invillages.
岛上骑行:岛上有长约7公里的环岛绿道,非常平整,就像绕操场跑步一样,骑行需时约40分钟。岛上有公共自行车出租(第一小时免费,其后每一小时1元,需押金200元);同时也有双人单车、四人单车等出租,价格在40-80元/小时不等。
Riding: There is a round island route about7 kilometers long, which is as flat as playground. It takes about 40 minutes toride a round. Tourists can rent public bikes on the island (free for the firsthour,1 yuan per hour afterwards, 200 yuan for deposit) . There are alsotwo-people and four-people bicycles for rent that cost 40-80 yuan per hour.
平沙岛 Pingsha Island
西樵平沙,一个灵气十足的江心小岛,相比起九江海寿岛的渔家风光,这里可以说得上是田园风袅袅!伴着清风走在那笔直的林荫大道上,只感心旷神怡~若踏辆单车来趟舒心环岛行,就更加欢乐啦!
Pingsha Island of Xiqiao Town sits in themiddle of a river. Compared with the fishing scenery of Haishou Island inJiujiang Town, it has a pastoral style. Walking on the straight boulevard withbreeze is very relaxing. Riding a bike around the island will make a fun trip!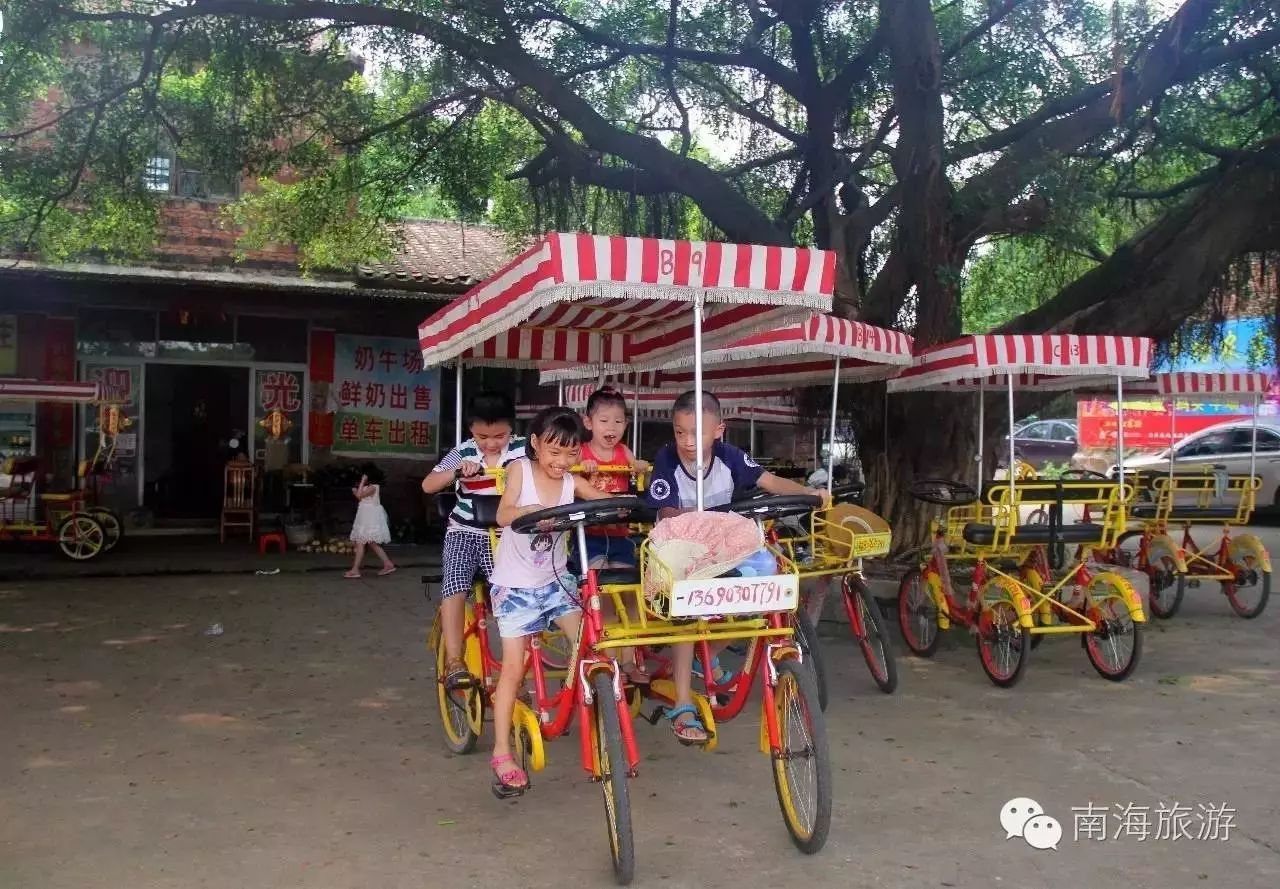 除了招牌美食水牛奶浸鸡,平沙岛上有无花果、蓝莓、葡萄、香水柠檬及火龙果等水果,到了采摘季节,瓜果飘香!
Besides the signature cuisine stewedchicken with buffalo milk, there are many different kinds of fruits in PingshaIsland, such as fig, blueberry, grape, fragrant lemon, dragon fruit, etc. Whenthe fruiting season comes, the island is full of the fragrance of fruits.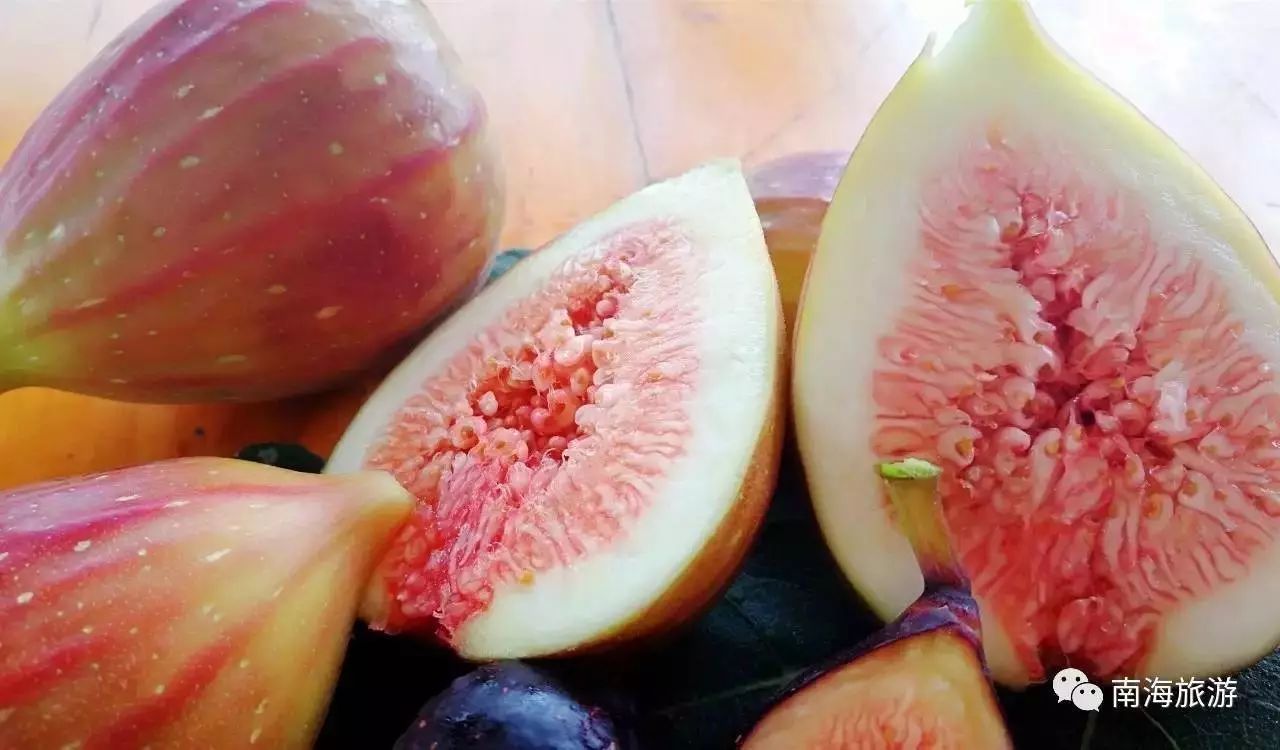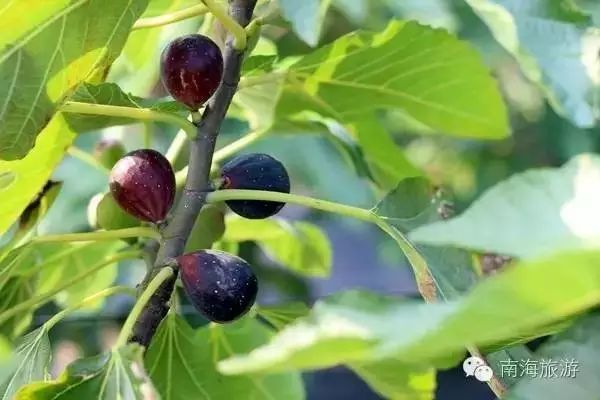 旅客指引 Tourist guide
岛上有双人单车、四人单车及电动车出租,价格在20-60元/日不等,需交押金100元。
There are two-people andfour-people bicycles and electric mobile for rent, costing 20-60 yuan per dayand needing 100 yuan for deposit.
三山岛 Sanshan Island
离南海市区不远,有一四面环水的小岛叫平洲三山。夹在南海、番禺、顺德之间,东平水道、橹尾撬河道贯穿而过。这里的疍家人自古以来以船为家,以鱼为生,创造了独特的文化。
Near the downtown of Nanhai, there is anisland surrounded by water called Sanshan, Pingzhou. It is in the middle ofNanhai, Panyu and Shunde with Dongping River and Lu Wei Qiao River runningthrough it. Since ancient times, the Dan Jia people here have been living inboats and living on fishing, creating a unique culture.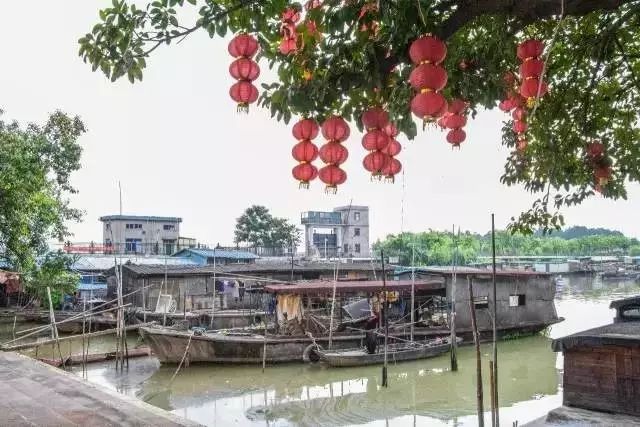 沿着绿道骑行,可见深深浅浅的绿色。特别是平洲三山堤围段,环境优美,空气清新。
If riding along the greenway, tourists cansee the island decorated with both dark and light green. The scenery on the boundof Sanshan, Pingzhou is especially beautiful and the air is fresh.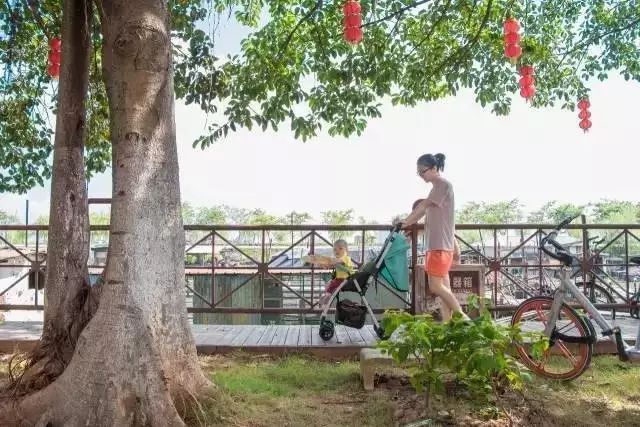 岛上还有南海最后一条纯"渔民村"——北区渔村,这里居住着许多以打渔为生的渔民。若是幸运,还能买到渔民新鲜捕捞的鱼虾。来这里,感受那朴实无华的疍家生活,一片岁月静好。
The northern fishing village on the islandis the last "fishermen's village" in Nanhai, where many fishermen live onfishing reside. If you are lucky, you can buy fishes and shrimps freshly caughtby fishermen. Come and feel the simple and peaceful life of Dan Jia family.
贤鲁岛 Xianlu Island
里水贤鲁岛,南海东北角的一个离岛。这里没有工矿企业,只有城市难得一见的蓝天白云。如果你总渴望在闲暇的时间里,寻找一处净土,放松一下绷紧的神经,享受一次无忧无虑的慢生活,来这里准没错!
Xianlu Island of Lishui is an offshoreisland at the northeast of Nanhai. Without industrial and mining enterprises,blue sky and white cloudhere that is rare to a city. If you always want to finda pure land, relax yourself and enjoy a carefree slow life in your leisuretime, this is the best choice!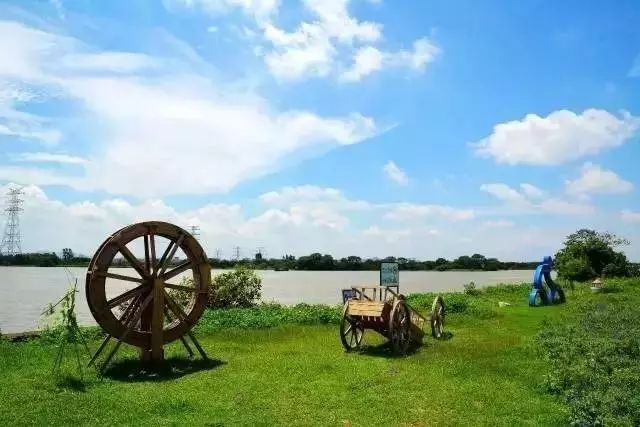 除了美景,贤鲁岛清润鲜甜的水果也不容错过~这里的无花果洋溢着独有的清香,一个个红彤彤、黄澄澄的"糖包子"挂在枝头,可爱迷人。红肉火龙果鲜嫩多汁,美味健康。
Except for beautiful scenery, therefreshing and sweet fruits on Xianlu Island are appealing. The figs look likered and yellow "sugar dumplings" hanging on the branch with unique fragrance,which are quite adorable. The red-pulp dragon fruits are fresh and juicy, whichare both tasty and healthy.
金沙岛 Jinsha Island
丹灶金沙岛,被北江和南沙涌包围,在高空看,像一个弯弯的月亮,可被称为月亮岛,环岛有全长42.3公里的河岸线,绿道长达10多公里。
Surrounded by the North River and NanshaRiver, Jinsha Island of Danzao looks like a crescent moon from above and thusis also called as Moon Island. The bank line is 42.3 kilometers long and thegreenway is over 10 kilometers long.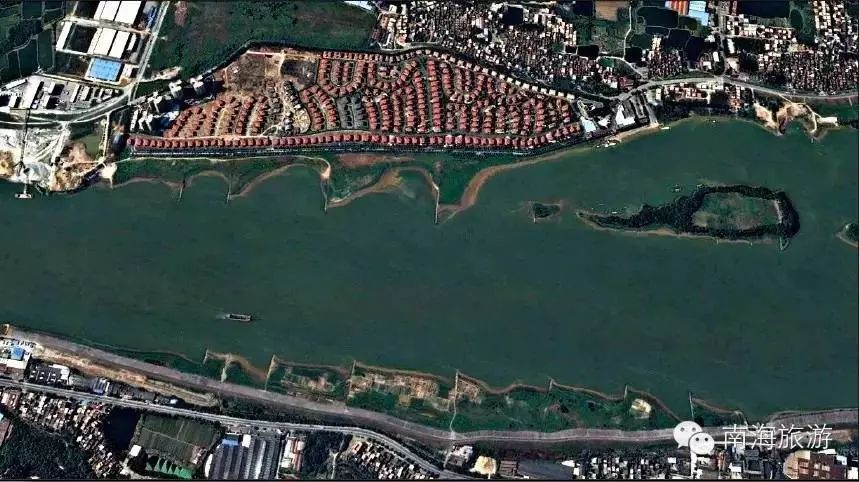 岛上自然生态资源丰富,有湿地、滩涂等原生态北江自然风光,是不少骑行者的好去处。沿着环岛绿道慢骑,大自然的美景尽收眼底!
The island is rich in natural ecologicalresources, including natural scenery of the North River like wetlands andmudflats, which attract many riders. Slowly riding along the round islandgreenway gives you a panoramic view of the beauty ofnature.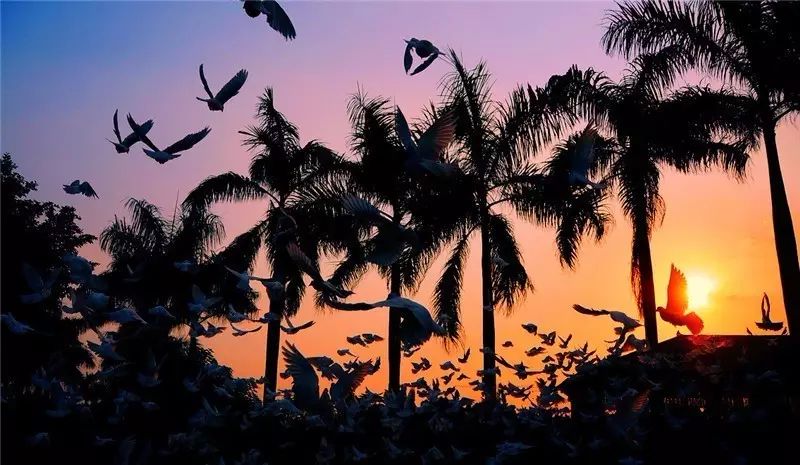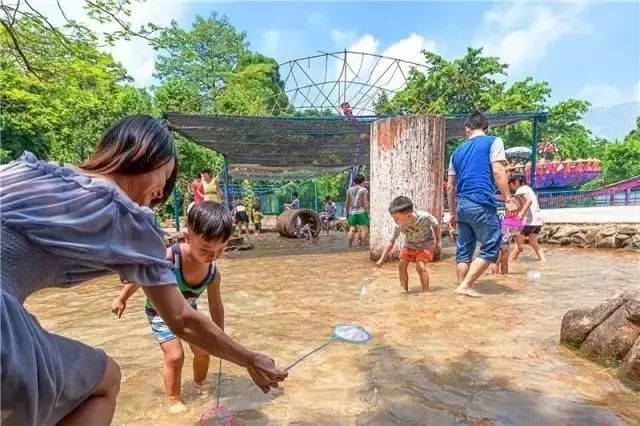 假期,你还可以带着孩子到岛上野餐,捕鱼、玩卡丁车……疯玩一个周末!
During the holiday, you can also takechildren to have a picnic, go fishing, racing karts...... A fun weekend on theisland!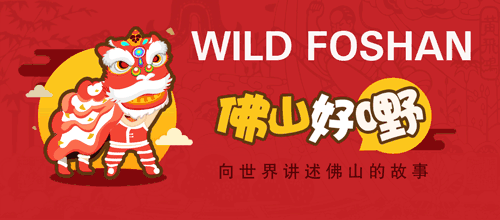 编译:Jessica
图片:梁韵芮、杨荣燕、梁平、英雄、南半岛仙人掌、mwx、南海丹灶人微博、怀恩Ryan、黎玉瑶、南海九江、梦里水乡、南海丹灶等
来源:佛山新闻网、南海旅游