A bite of Asian gourmet 足不出佛山,尝遍亚洲七地美食
2017-11-13 Source:Foshan China
马来西亚肉骨茶、日本寿司、韩国蛋香肠、西樵大饼、顺德伦教糕、九江煎堆……昨日(11月11日),"亚洲(南海)美食文化节"在西樵国艺影视城黄大仙祠前广场举行,来自不同国家和地区的餐饮企业和旅游手信企业将本区域内的特色美食一一奉上,吸引众多游客尽情品尝和购买。活动将持续到今天,想要逛吃逛吃的小伙伴不容错过!
Bak-Kut-Teh from Malaysia, Sushi from Japan, Sausage-in-Egg from Korea, Xiqiao Cake, Shunde Lunjiao Cake, Jiujiang Jiandui…… Yesterday (Nov. 11), Asian Gourmet Culture Festival was held at the square in front of WongTai Sin Temple in National Arts Studios, Xiqiao. Restaurants and souvenir companies from different countries and regions showed their specialties totourists. Tourists could have a taste or buy some home. The festival will be on till today, so come on and try various gourmets!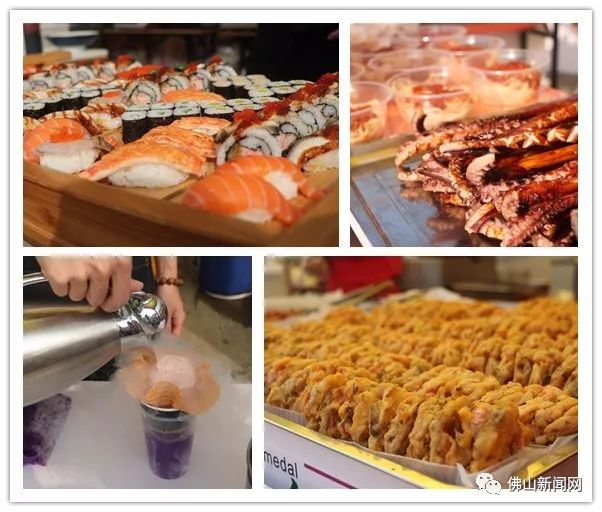 此外,昨天现场还进行了中华二十四节气名山·名医·名药·名厨2018年系列活动的启动仪式和2017南海十大旅游手信的颁奖典礼。"中华二十四节气名山·名医·名药·名厨系列活动"自2016年启动以来,已成功举办了30期的活动,超过15万的游客参与旅程,现已逐渐发展成为国内知名的文旅品牌活动。
Besides, the opening ceremony of Chinese 24 Solar Terms Famous Mountain· Famous Medicine·Famous Chefs 2018 and the award ceremony of Top Ten Nanhai Tourism Souvenirs 2017 were held yesterday on the sopt. Since the launch of "Chinese 24 Solar Terms Famous Mountain· Famous Medicine· Famous Chefs 2018" in 2016, there have been 30 gatherings and over 150,000 tourists participated in the trip. This event is developing into a famous national cultural tourism brand activity.
活动回顾 Event Review
11月10日,2017"亚洲名厨精英荟"暨文旅交流活动在佛山南海区西樵镇隆重开锣,来自韩国、日本、马来西亚等国家以及中国台湾、香港、澳门、佛山南海等地区的殿堂级厨师齐聚南海,为市民奉上了一场饕餮美食盛宴。
The 11th Asian Culinary Exchange was grandly held on Nov. 10 in Xiqiao Town, Nanhai District, Foshan. It gathers lots of prominent chefs. Some come from different Asian countries such as Korea, Japan and Malaysia. Others are from Chinese regions including China Taiwan, Hong Kong, Macao, Foshan Nanhai, etc. All of them offered a feast of gourmet to the public.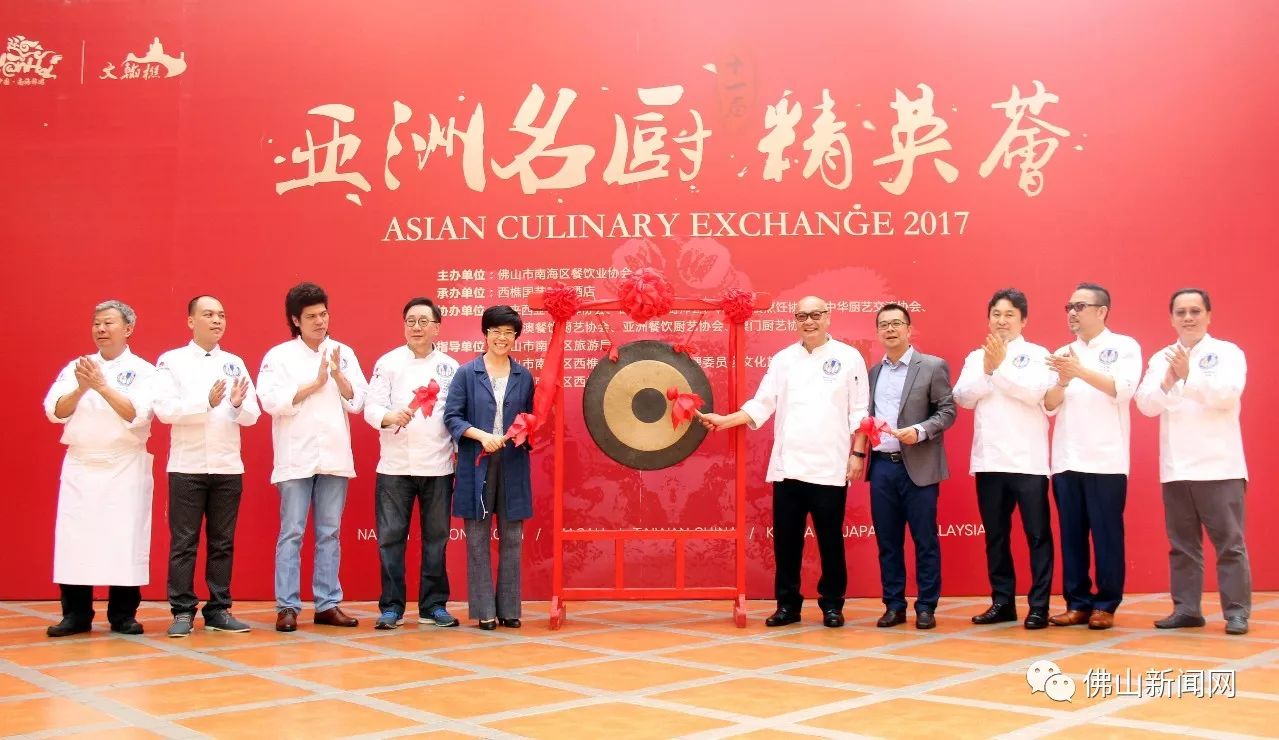 本届盛会以"中华煮意之故乡浓情"为主题,由2017亚洲名厨精英荟厨艺大赛、亚洲名菜品鉴宴、亚洲(南海)美食文化节三大活动组成,大力挖掘和弘扬亚洲和南海美食文化内涵。活动启用了创新大赛的模式,引入了旅游观光、交流体验、招商洽谈等活动。
With a theme of "Chinese cuisine with a strong feeling for hometown", the event this year included three themed activities, including Asian Culinary Exchange, Asian Cuisine Tasting Banquet and Asian Gourmet Culture Festival, exploring and developing the cultural connotation of Asian and Nanhai cuisines. It adopted innovative competitionmode, introducing various activities like tour and sightseeing, exchange and experience, business promotion and negotiation.
厨艺大比拼 十支队伍上演巅峰对决
Ten top-level teams competed for culinary skill
名厨精英荟活动至今已成功连续举办十届,从最初的香港、南海餐饮业界交流活动逐步发展成为荟萃国内及亚洲其他国家和地区美食的盛会,今年的赛事是历年来规模最大、范围最广的交流活动,为饮食界、旅游界同行分享饮食文化、烹饪技艺及经营理念创造了良好的平台。
The Asian Culinary Exchange has been successfully held for ten consecutive years. Originated from an exchange activity held between Hong Kong and Nanhai, it has become a grand event in China and other Asian countries. This year, the event covers the widest competition area with the biggest scale over the years. It provides a great platform for catering and tourism industry peers to share cuisine culture,cooking skills and management ideas.
随着比赛铜锣的敲响,厨师们开始大展身手,展开激烈角逐。
After the competition began, chefs started to try their best to cook dishes. It was show time.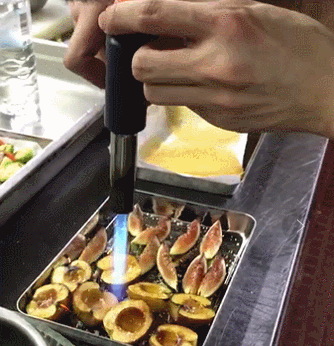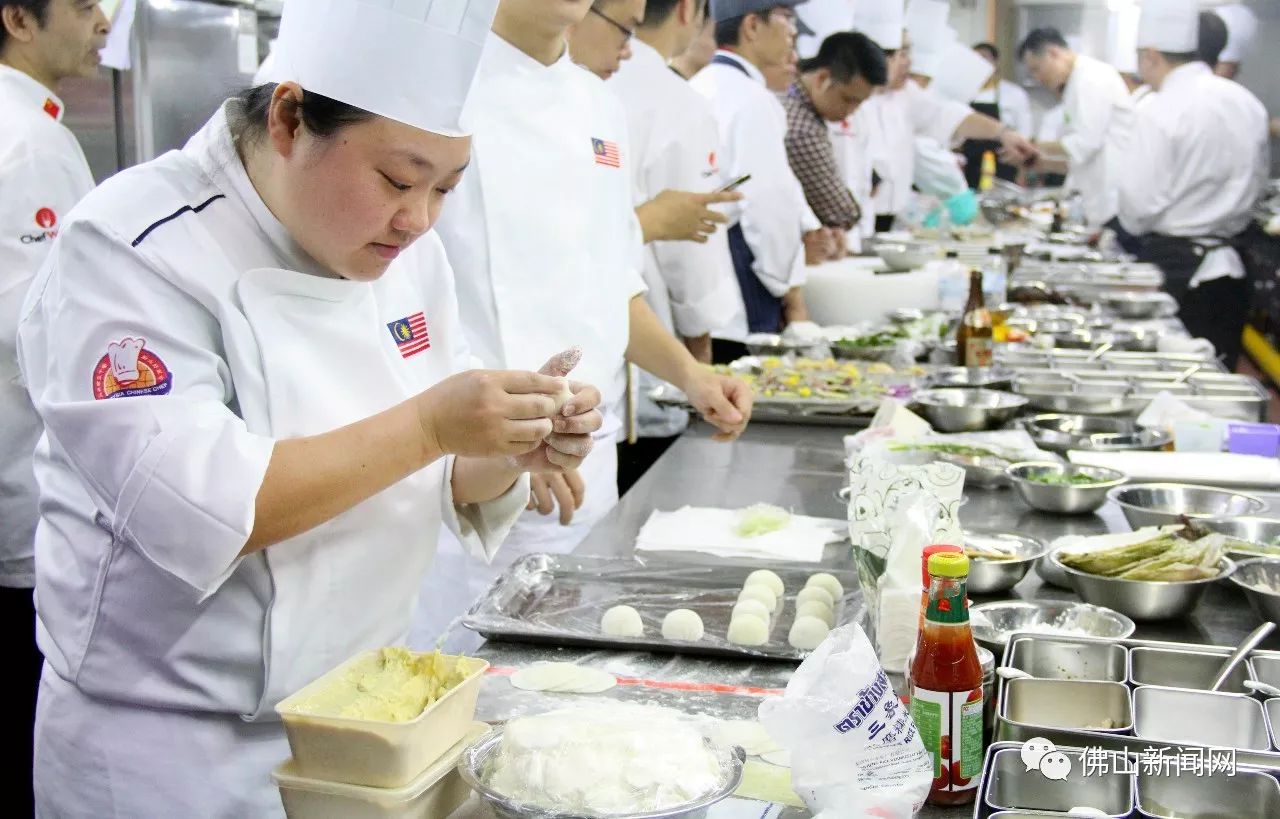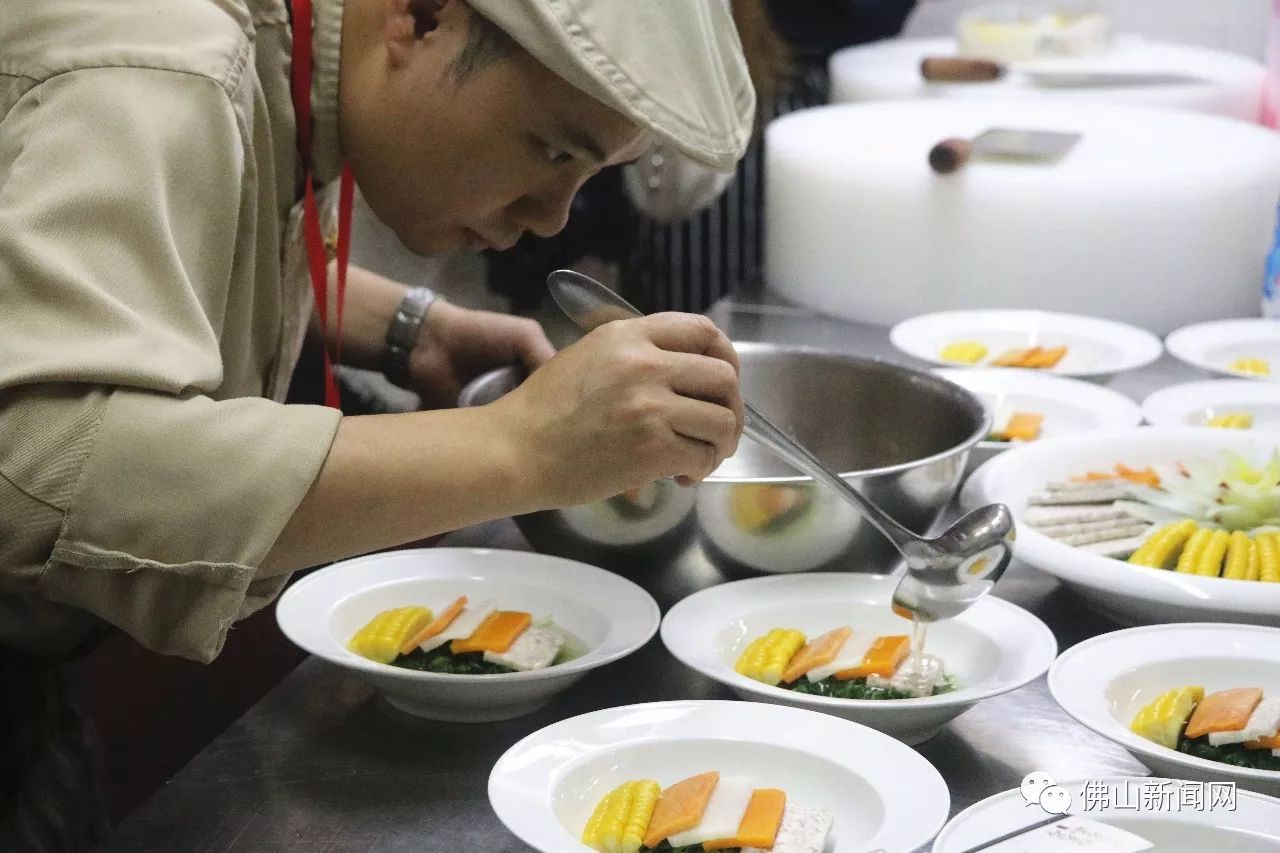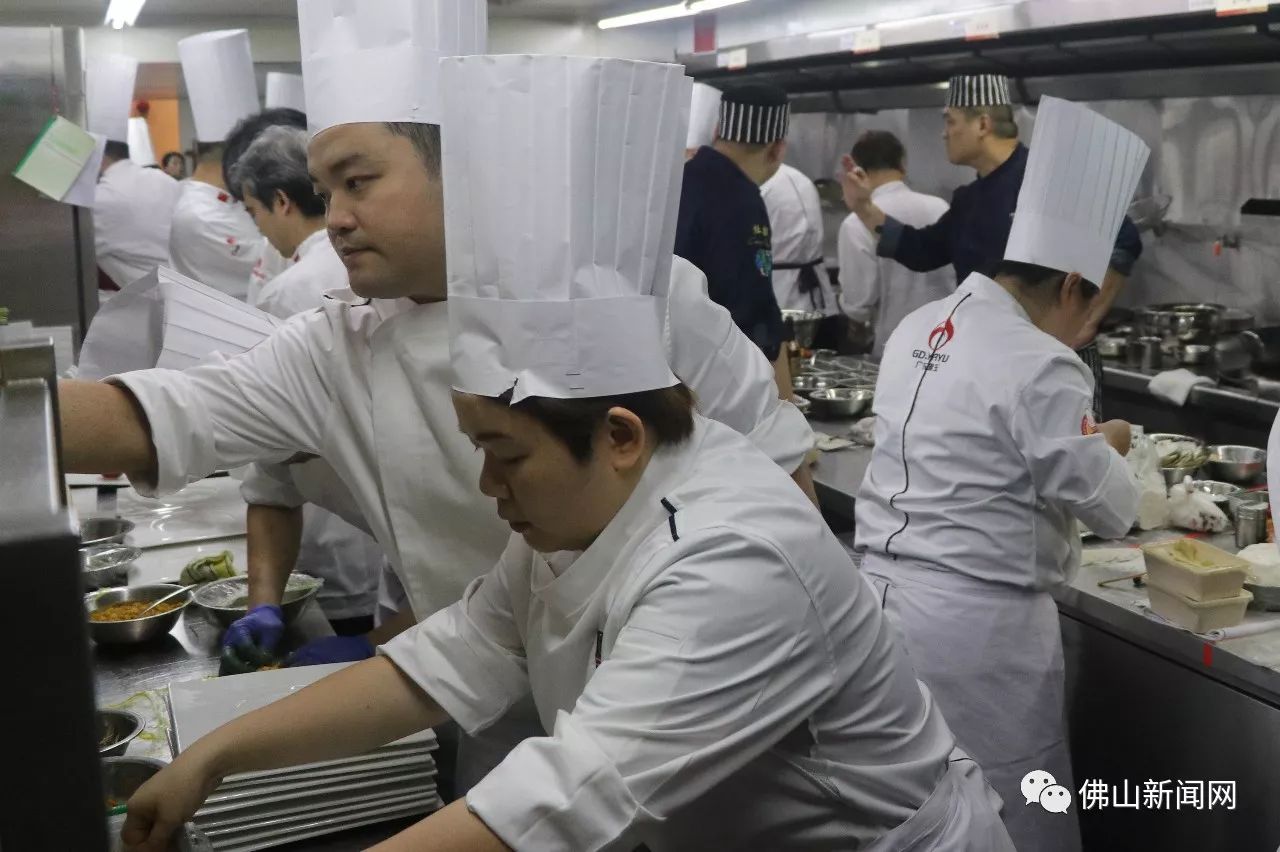 本届比赛主办方还邀请了各地资深餐饮协会领导、美食专家成立评审委员会,评审委员根据菜式的"色"、"香"、"味"、"形"展开评判打分,决出各个奖项。
Senior gastrosophs and leaders from related associations were invited to form a panel of judges, who would grade and award according to the color, smell, taste and shape of cuisine.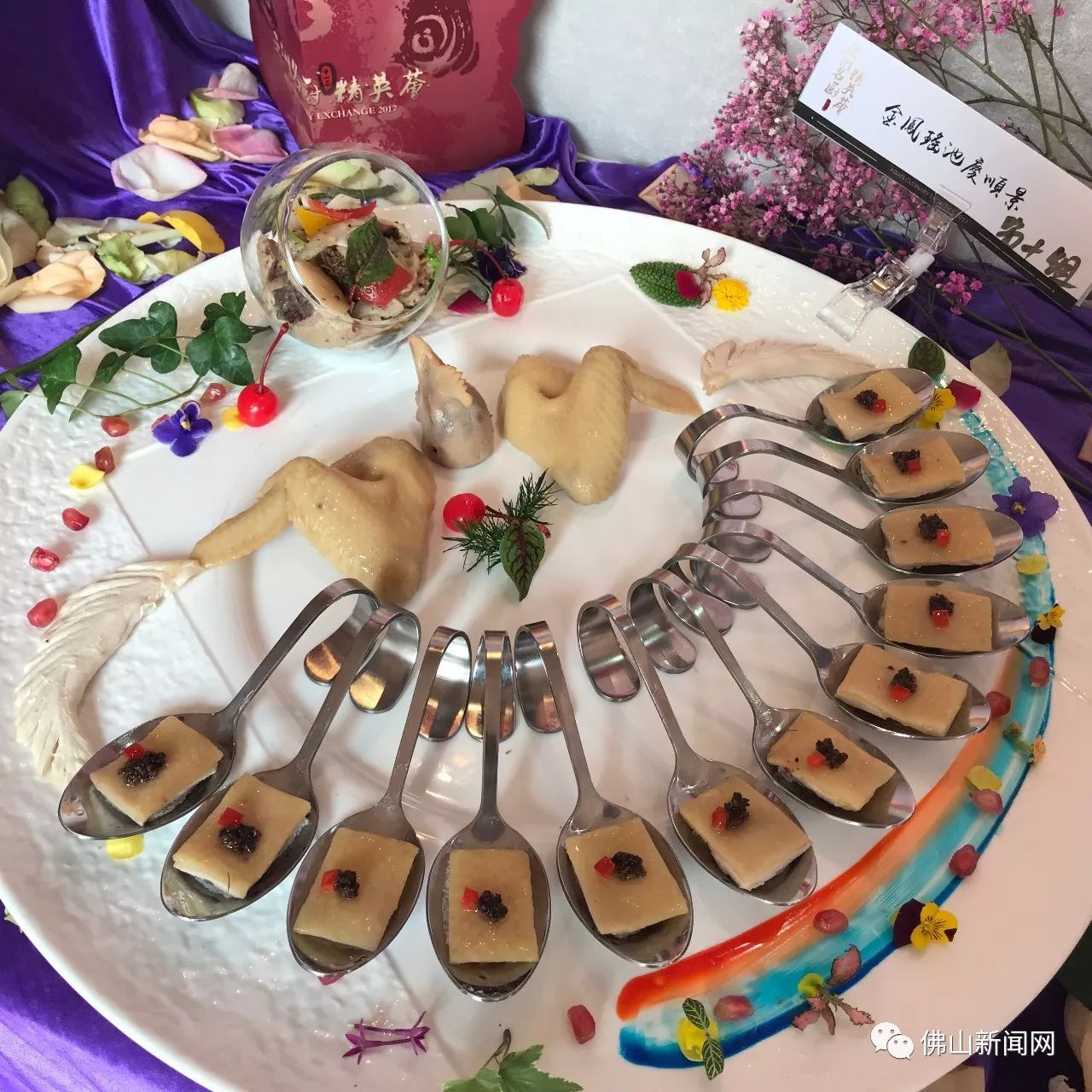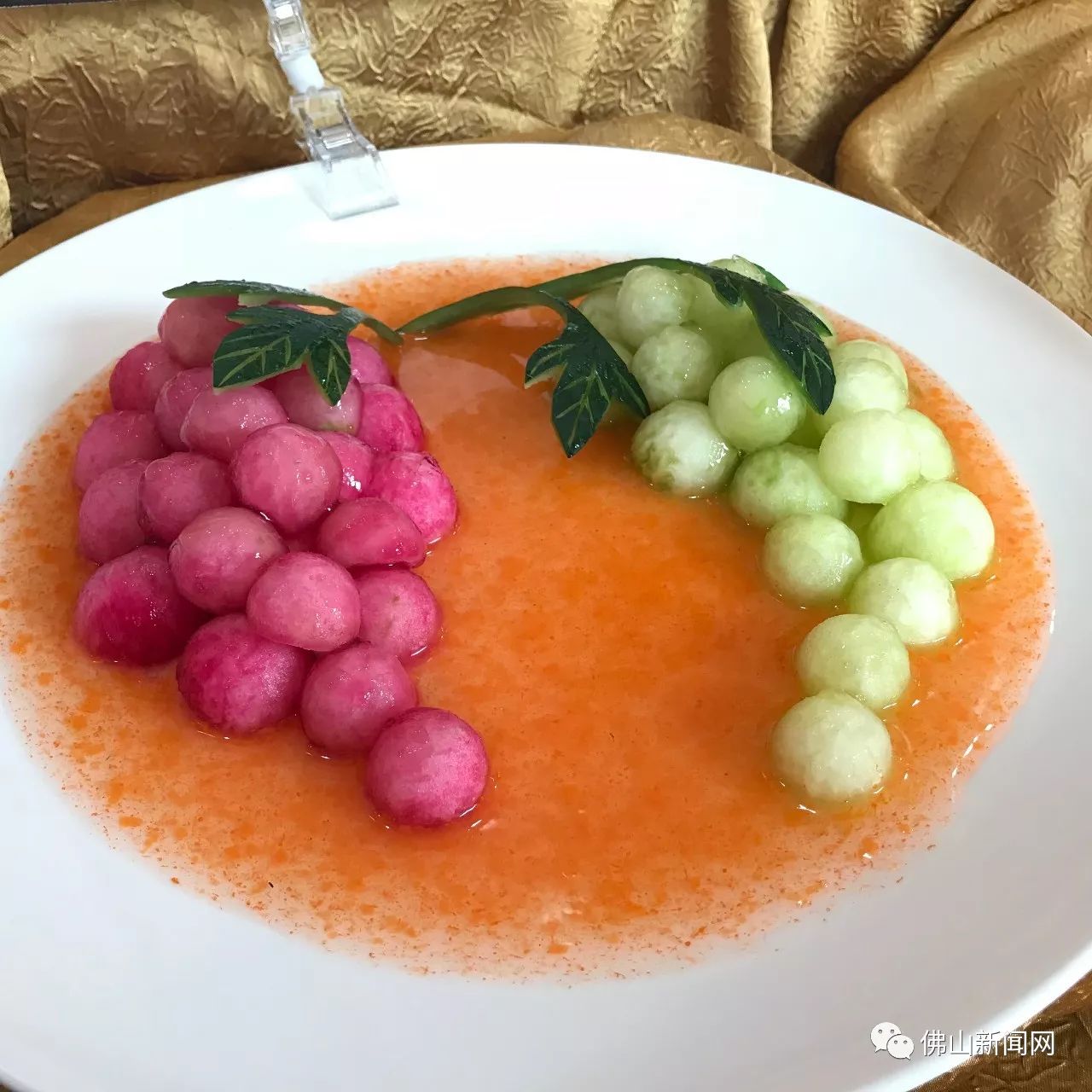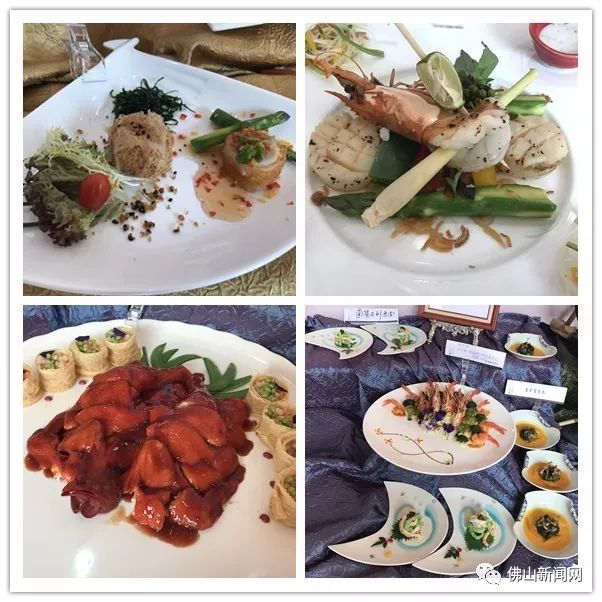 活动当晚,主办方对比赛优胜的队伍进行了颁奖,并对南海区文旅发展顾问进行授牌。近年来,南海旅游发展蓬勃,得益于南海区积极筹建文旅顾问智库,每年都会邀请这些文旅顾问来指导南海各文旅项目的发展提升和规范管理,目前已拥有文旅顾问共41人。
In the evening, the host gave prizes to the winning teams and awarded counselors of the development of Nanhai culture and tourism. In recent years, owing to Nanhai cultural tourism counselor think bank, Nanhai tourism is thriving. These counselors will be invited to guide the development and management of Nanhai tourism projects every year. Nowadays there are totally 41 members in the team.
"亚洲名菜品鉴宴"奉上美食盛宴
Gourmet at Asian Cuisine Tasting Banquet
除了"名厨精英荟厨艺比赛",当天晚上的"亚洲名菜品鉴宴"活动,为八方来客奉上了一场"好吃""好看""好玩"的饕餮美食盛宴。
Besides culinary competition, Asian Cuisine Tasting Banquet in the evening also brought a delicious, good-looking and interesting feast of gourmet to guests from different places.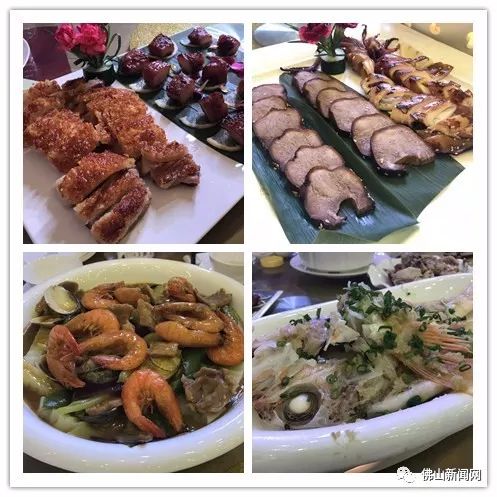 "亚洲名菜品鉴宴"设宴50席,每席设十款菜式,菜式由"名厨精英荟厨艺比赛"的十组参赛选手共同提供,其中七个国家和地区各提供一道菜式,南海提供三道菜式。菜肴有多美味,一起来看看。
At the banquet, there were 50 tables and each table presented ten dishes, seven of which were from different countries and regions and three of which were from Nanhai. Let's have a look at these delicious cuisines.
以美食为媒助力南海旅游品牌提升
Nanhai promotes tourism brand
南海旅游资源丰富,文化底蕴深厚,景区景点众多,伴随全域旅游蓬勃发展以及"一带一路"战略下各地交通的密切联系,南海深入挖掘景区文化内涵,建立海内外旅游合作平台,着力打造具有南海特色的文旅"标签"。本届"亚洲名厨精英荟"的重磅回归,充分展示了南海整体餐饮行业的国际化水平,同时展现南海文旅无与伦比的潜力,南海将成为人们心中理想的旅游目的地。
Nanhai is rich in tourism resources, cultural heritages and scenic spots. With the flourishing all-for-one tourismand close transportation linkage under the Belt and Road Initiative, Nanhai keeps digging into the cultural connotation of its scenic spots, builds atourism cooperation platform home and abroad, and promotes a cultural tourism brand with Nanhai characteristics. The 11th Asian Culinary Exchange fully shows not only the international level of Nanhai catering industry, but also incomparable potential of Nanhai tourism. Nanhai will become an ideal place for tourism.
素材:佛山新闻网、南海旅游
编译:Jessica
图片:Jessica、佛山新闻网杨荣燕、网易等