Foshan, its neighboring city Zhongshan, the Wudang Mountains in Hubei province, and Shaolin Temple in Henan province, are synonymous with Chinese martial arts.
The traditional Chinese art of combat had sparked interest among people around the world, who were inspired by the kung fu heroes they saw in movies and on television.
"To start with, the training in the Wing Chun style of kung fu was hard and tough," recalls Jesper Lundqvist - a Danish kung fu practitioner, who has called Foshan in Guangdong province home for over a decade. Fingering the subtle curvature on his nose that he attributes to a fight during training, he says: "I couldn't breathe."
Lundqvist is among 100,000 people who practice kung fu in Foshan, which was a breeding ground for renowned martial artists, such as Wong Fei-hung, during the early 20th century. The southern Chinese city was enjoying its halcyon days of peace when martial arts clubs sprang up like mushrooms, teaching students a variety of kung fu styles, including Wing Chun, which is known for its explosive, close-range strikes.
But, the public's interest in Wing Chun may have declined in recent years as mainstream teaching methods have evolved to cater to the needs of people from different professions, thereby denting its glamor, according to Lundqvist. "Many people see martial arts as more of a hobby than a rigorous discipline. Professionals like lawyers and businessmen may want to avoid physical harm, which could interfere with their work. Consequently, the modern practice of Wing Chun has become gentler and more accessible."
The legacy of Wing Chun was spread through the influence of grandmaster Ip Man, a native of Foshan, who took the art to Hong Kong. His student, the late superstar Bruce Lee, catapulted this ancient Chinese martial art onto the global stage through an array of films that became international hits in the 1970s.
Lundqvist first encountered Wing Chun in Denmark as it was gaining worldwide fame. "When I was a teenager, I spent my pocket money and earnings from jobs buying books, magazines and, later, expensive videotapes from the United States, to seek as much information as possible about Wing Chun," he reminisces. Lundqvist began his martial arts training in 1984 and quickly developed a passion for it.
In his pursuit of authentic kung fu, Lundqvist first visited China in 2008. His desire to learn directly from the master, who was the source of the martial arts style he practices, led him to travel frequently between Europe and China until 2012, when he decided to relocate to Fo- shan permanently.
Lundqvist is captivated by the ceaseless cadence of daily life in the capital city of southern Chinese martial arts, a vibrant tableau teeming with unexpected surprises. "You might often greet someone, only to discover later that he was a student of a renowned master 50 years ago. It's an experience you can't find almost anywhere."
Currently, Foshan has 297 registered, and more than 200 unregistered martial arts schools, employing about 10,000 martial arts professionals, according to the city's government website.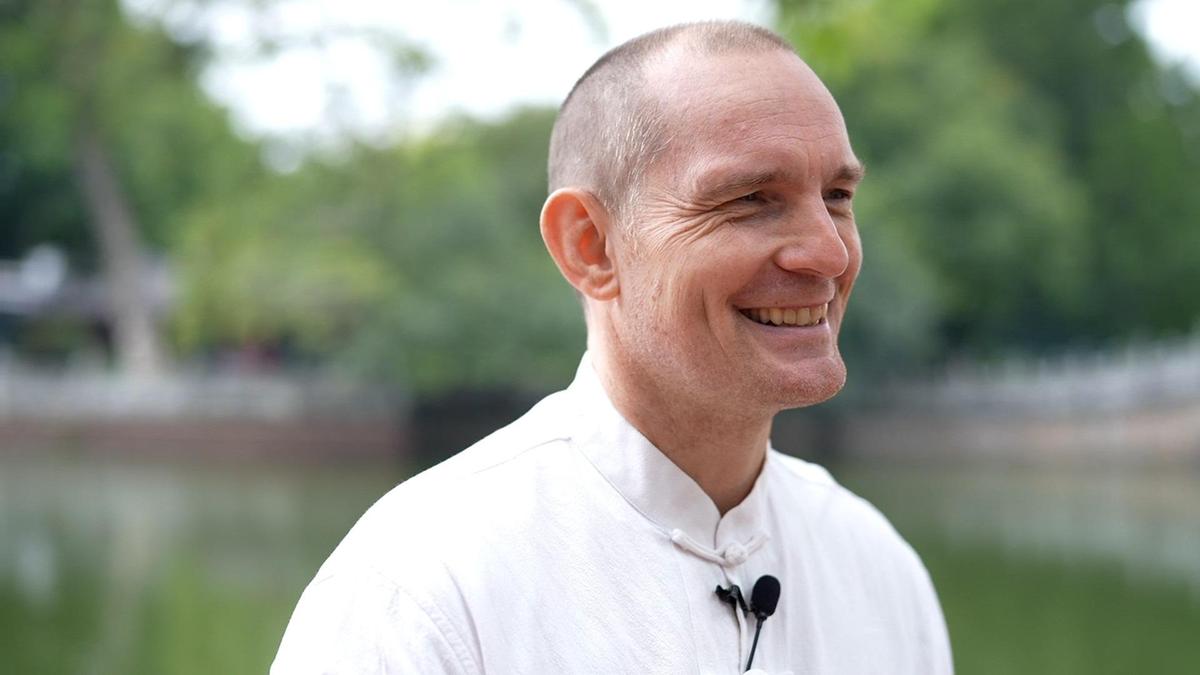 Jesper Lundqvist, a Danish kung fu practitioner who has resided in Foshan for over a decade. [PHOTO PROVIDED TO CHINA DAILY]
'Not a hobby'
To Lundqvist, kung fu is part of his life. "It's not a hobby. Much like people having to eat or take a shower daily, I need to practice martial arts. If I don't, I would feel as if something's missing."
In contrast to Western boxing, which is easy to pick up and often viewed as dynamic by the younger generation, Lundqvist says traditional Chinese kung fu requires students to keep practicing the same movements for hours daily, or over several months. "This type of training isn't as exciting as in a boxing gym, where you can start punching right away. Traditional martial arts might not be as entertaining in the conventional sense, and many people don't appreciate this form of training."
The old adage, "before you start real kung fu, you need to do Standing Pole exercise for three years", underscores the significance of foundation training in traditional Chinese martial arts. Originally, kung fu in Chinese refers to a discipline attained through diligent work and dedicated practice.
The popularity of kung fu soared at the dawn of the 20th century amid a revolution that was sweeping across China. Near the end of the Qing Dynasty (1644-1911) and at the beginning of the Republic of China (1911-49) period, authorities held Chinese martial arts in high esteem, believing that martial arts, including Wing Chun, could be instrumental in defeating foreign invaders, and were essential for self-defense. Therefore, kung fu has a significant link with national pride and patriotism.
Lundqvist has made a career out of championing kung fu, earning his livelihood by connecting foreigners seeking real martial arts knowledge with Chinese kung fu masters. "I have found that Chinese kung fu is very different from what people think in Europe. I have encountered several exceptional masters who practice techniques that are unique. However, in Europe, such knowledge is virtually unknown."
He notes that there is great interest in Chinese martial arts in Europe, but access to kung fu masters is limited. Conversely, in China, these masters are eager to teach, but there is a lack of interest among the young generation. "To bridge this gap, I have decided to invite Chinese kung fu masters to Europe for training seminars and camps and, likewise, bring interested Europeans to China to learn directly from these masters," says Lundqvist.
Practicing regularly is particularly challenging in today's fast-paced world. According to Lundqvist, one of the most significant obstacles he faces in practicing martial arts is to find a partner, as people often lack the time, or find it hard to synchronize their busy schedules. Even when a person gets the chance to practice at his teacher's school, it would be limited to just a couple of times a week - far less than his preference for daily practice.
The Foshan municipal government has been working toward a kung fu renaissance by including a range of martial art styles, such as Wing Chun, in the China Intangible Cultural Heritage provincial list. The authorities have also been promoting it in primary and secondary schools as a sport known as wushu to carry on traditional culture.