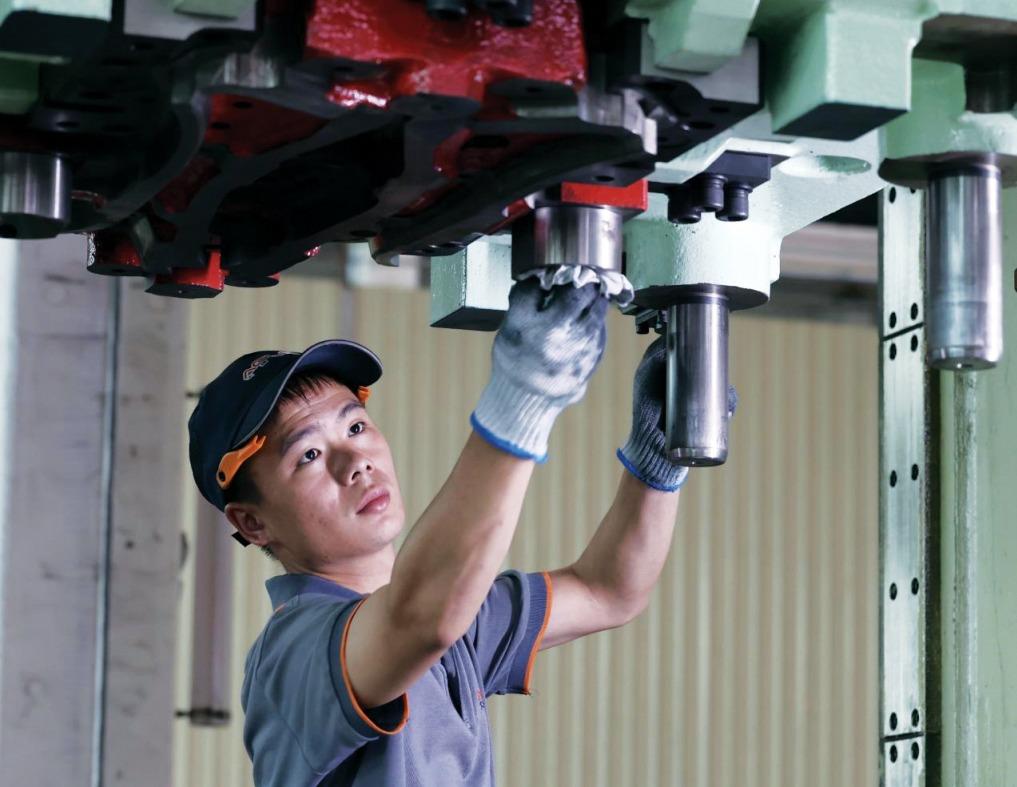 A worker wipes the mold at a startup incubated by Ji Hua Laboratory in Foshan, Guangdong province. PARKER ZHENG/CHINA DAILY
The trading and manufacturing hub of Foshan is making new waves of producing industrial robots, as demand soars amid continued efforts to digitalize the manufacturing business, and local robot makers are striving to climb up the ladder. Chai Hua and Zhang Tianyuan report from Foshan.
Editor's note: The fifth anniversary of the publication of the Outline Development Plan for the Guangdong-Hong Kong-Macao Greater Bay Area is in February next year. In the second of China Daily's series on the most intriguing stories to come out of the Greater Bay Area cities within the past five years, we explore Foshan's expertise in producing industrial robots, and the evolution of martial arts in the city.
The boom in intelligent upgrading of factories on the Chinese mainland is driving demand for industrial robots. Last year alone, China's industrial robot installations accounted for more than half the world's total.
The ancient city of Foshan, a trading center located in the Pearl River Delta, southwest of the Guangdong provincial capital, Guangzhou, is one of the nation's key production hubs for industrial robots.
It's dubbed the "city of industrial robots", with one out of every 12.5 industrial robots produced in the country manufactured in Foshan.
However, not all robot makers have been raking in the dough. Some players in the emerging high-tech industry have found themselves trapped with low profits, and have been striving to break through the challenges in the high-end industry's low-end development model. Most of them are "integrators" that rely on importing foreign-manufactured machines and localizing them.
One factor in such a phenomenon can be traced back to a decade ago when local household appliance producers started installing robots in factories on a massive scale, but few of them in the area could actually make robots. A group of industrial robot "integrators" then teamed up to meet the huge demand as Foshan is a national and global hub for household appliance manufacturing, and is the cradle of many well-known brands like Midea, Hisense and Galanz.
"When Foshan-based Midea, a world-famous home appliance maker, began utilizing robots at its production lines on a large scale this year, we purchased imported robotics from Kawasaki Robotics in Japan, one of the four largest robot makers in the world, and customized new production lines with these robots for Midea," says Zhao Weifeng, founder and chairman of Foshan Rossum Robotics Co.
He explains that industrial robots comprise two parts - the body of the device and the integration system. What his company and other "integrators" do is "install grippers, bases and various auxiliary equipment in the robot bodies, and then apply them in different production lines".
Foshan Rossum soon grabbed more than 60 percent of the home-appliance market, but Zhao is still worried. "The threshold of being an integrator is low, and our net profit in the traditional market is less than 20 percent," he says.
Hit the bull's eye
He believes the underlying issue is the lack of core technology and components. "Currently, international brands command about 70 percent of the domestic industrial robot market, while local brands take up the other 30 percent," says Zhao, adding this could change in the coming years.
Eyeing the new trend, he decided to readjust the company's development strategy in 2020, and set up a joint venture with Kawasaki Robotics, aimed at localizing the manufacturing of robot bodies, which have three major components - the servo motor, precision reducer, and motion controllers. Zhao says he believes the first two components can be manufactured domestically in the first five years, while his company focuses on producing motion controllers. "As these core technologies continue to advance, the cost of robot manufacturing will fall significantly and, at that point, we can expect more factories to use robots."
Guangdong Jaten Robot & Automation - a Foshan-based producer of automatic guided vehicles - is also devoted to technology innovation. Xu Bin, a research and development expert with the company, says the most common solution for making heavy-duty rudder wheels for automatic guided vehicles is to adopt the motor rotation principle. It's like an enlarged version of a small differential rudder wheel but, when the load increases, the overall size of the rudder wheel's rotating diameter also expands, occupying more space in the robot body.
He then decided to adopt a new approach by successfully developing a new drive unit, shortening the turning radius and realizing a 360-degree rotation. This largely improves the robot's operational efficiency and rotation rate.
Guangdong Jaten Robot & Automation is one of the earliest Chinese exporters of automatic guided vehicles to Europe, and plans to tap the North American market this year.
Midea - the world's largest producer of major home appliances - also built up its own pool of industrial robots. In 2018, Midea and German manufacturer Kuka, one of the four largest robot makers in the world, jointly erected the Midea-Kuka Smart Manufacturing Industry Park in Fo- shan. Midea fully acquired the Augsburg-based firm in 2022. The second phase of the industry park went into operation in May this year, and the company expects to have an annual output of up to 100,000 units.
The Foshan municipal government has also invested heavily in the strategic industry, and has resolved to transform traditional business models. In the past five years, the city has successfully attracted 34 key projects in the industrial robot manufacturing sector, with total investments reaching 36.25 billion yuan ($4.98 billion).
The total revenue of Foshan's robotics industries amounted to 51.5 billion yuan in 2022, with the production of industrial robots reaching 32,000 units, accounting for about 7 percent of the nation's total, according to the Municipal Investment Promotion Bureau.
The local government's unceasing efforts to digitalize the manufacturing sector have also spurred big demand for robots. The bureau said more than 40 percent of Foshan's large-scale industrial enterprises have achieved digital transformation so far this year, having installed more than 23,000 robots.
Software facilitation
The transition has propelled the innovation of robotic software systems. Industrial modeling software in the international market is expensive, and relies on the exceptional expertise of engineers. Xie Hui, a professor of smart manufacturing systems at the provincial government-backed Ji Hua Laboratory, has led a team to develop specialized software for industrial applications. "By utilizing our intelligent design system, the level of design efficiency has gone up more than 20-fold, resulting in a significant reduction in design engineer hours and a substantial decrease in equipment research and development costs," says Xie.
After feeding in parameters and requirements, the self-developed software Agile-Form V1.0, which has been trained using vast amounts of data from over 60 firms, can slash the time required for stamping mold processes from 10 days to one day. The software can lower the requirements for engineers and cut labor costs, says Xie. "For instance, the company must pay at least 100,000 yuan monthly to a veteran engineer, while a monthly salary of just 5,000 yuan is needed to hire a fresh graduate who knows the basic instructions to operate the software."
Ji Hua Laboratory's clients include Vietnamese electric carmaker VinFast, and China's Geely Automobile Holdings and Dongfeng Motor Corp.
Xie says the laboratory aims to expand the industrial-applied artificial intelligence system to other sectors, such as furniture manufacturing. "One of the challenges is data access, as each company's data accumulation is limited. Some businesses from other industries have approached us for collaboration. However, due to limited manpower, we have been unable to pursue these opportunities," he says. The company currently has a workforce of about 40 people for research and development, and another 60 of them involved in engineering and developing techniques.
Technology professionals are worried about a dearth of skilled workers as the traditional manufacturing sector shifts toward high-end technologies. According to a joint report by Deloitte and Chinese firm Renrui Human Resources Technology, the intelligent manufacturing business was short of 4.3 million digital workers last year. It expects the gap to widen to 5.5 million by 2025.
To address the talent shortage problem, the Foshan authorities are offering a resettlement subsidy of 300,000 yuan to technicians holding a senior title, while those with an associate senior title will get 200,000 yuan.
If you go: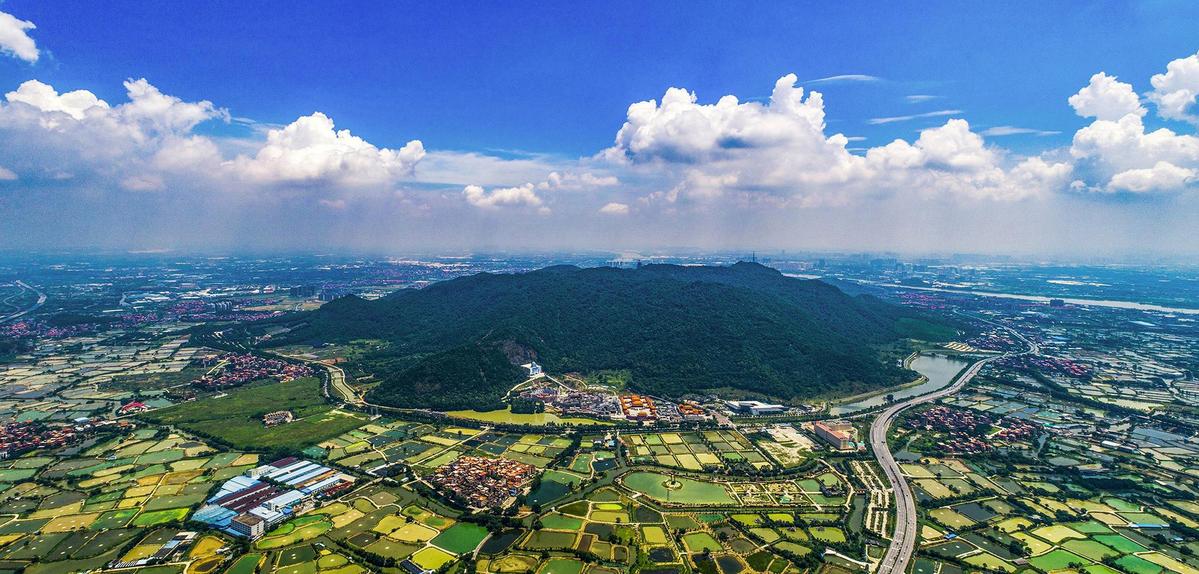 Xiqiao Mountain tourist attraction. [PHOTO PROVIDED TO CHINA DAILY]
Xiqiao Mountain tourist attraction
Location: Nanhai district
Highlight:
A dormant volcano that has been silent for billions of years; metasequoia trees turn flamboyant shades of yellow, orange and red in autumn.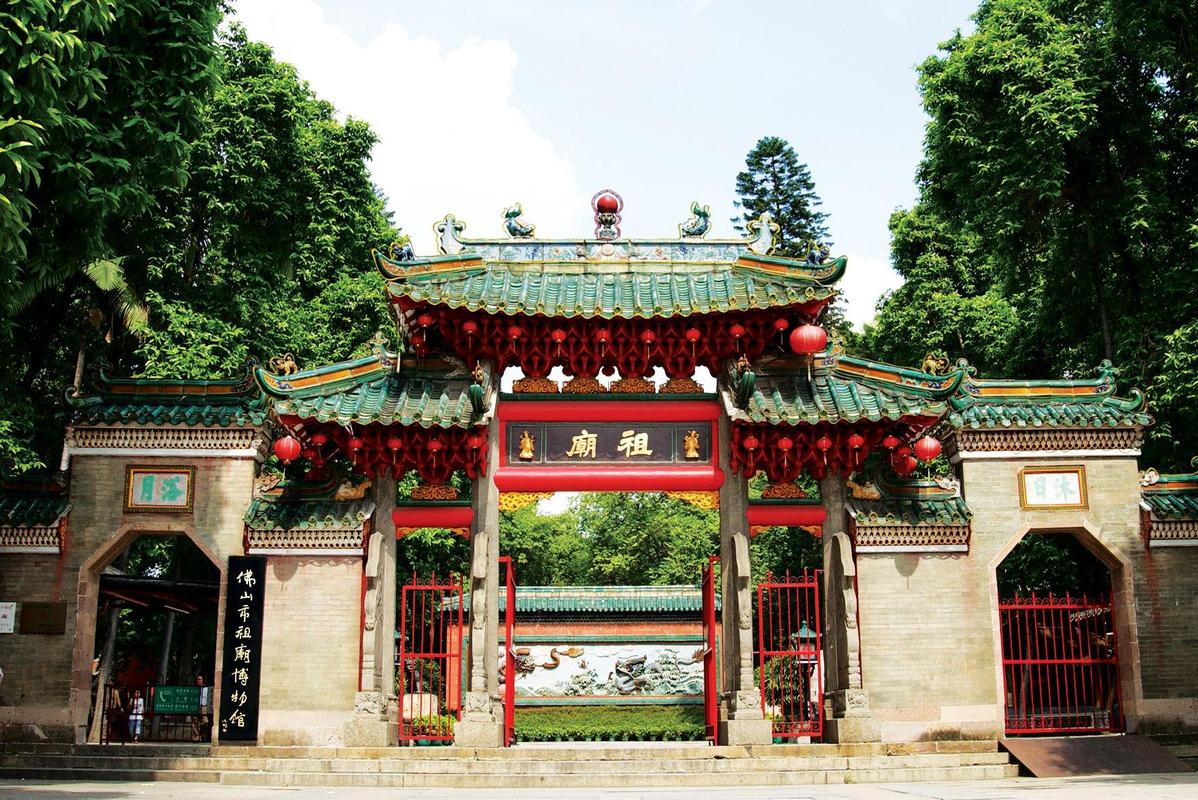 Foshan Zumiao Museum. [PHOTO PROVIDED TO CHINA DAILY]
Foshan Zumiao Museum
Location: Chancheng district
Highlight:
It covers an area of 30,200 square meters, including the ancestral temple complex, a national key cultural relic protection unit; Huang Feihong Memorial Hall; Yip Man Hall.
Qinghui Garden. [PHOTO PROVIDED TO CHINA DAILY]
Qinghui Garden
Location: Shunde district
Highlight:
Ancient garden architecture; one of the top 10 gardens in China.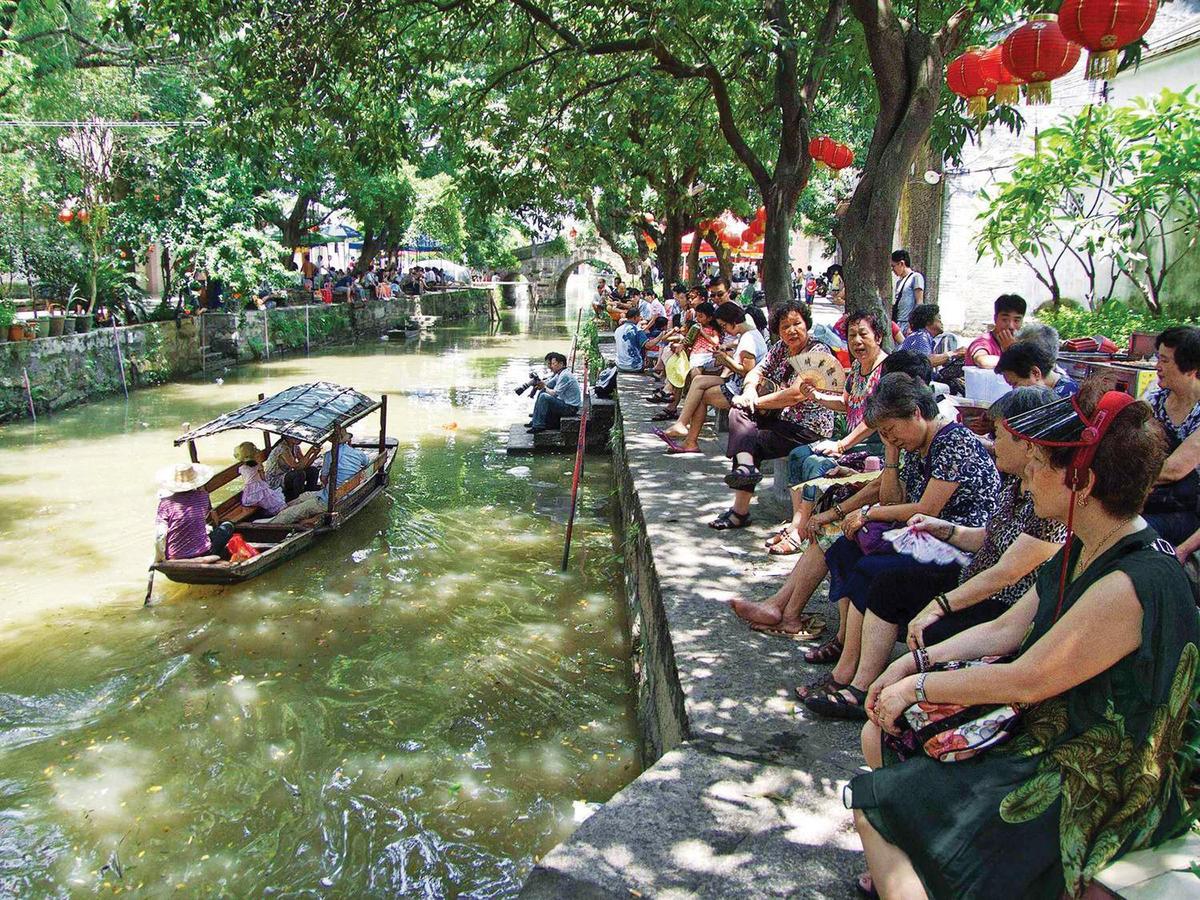 Fengjian Water Town. [PHOTO PROVIDED TO CHINA DAILY]
Fengjian Water Town
Location: Shunde district
Highlight:
The village is surrounded by water and with endless winding watercourses; a typical place with small bridges, streams and cottages.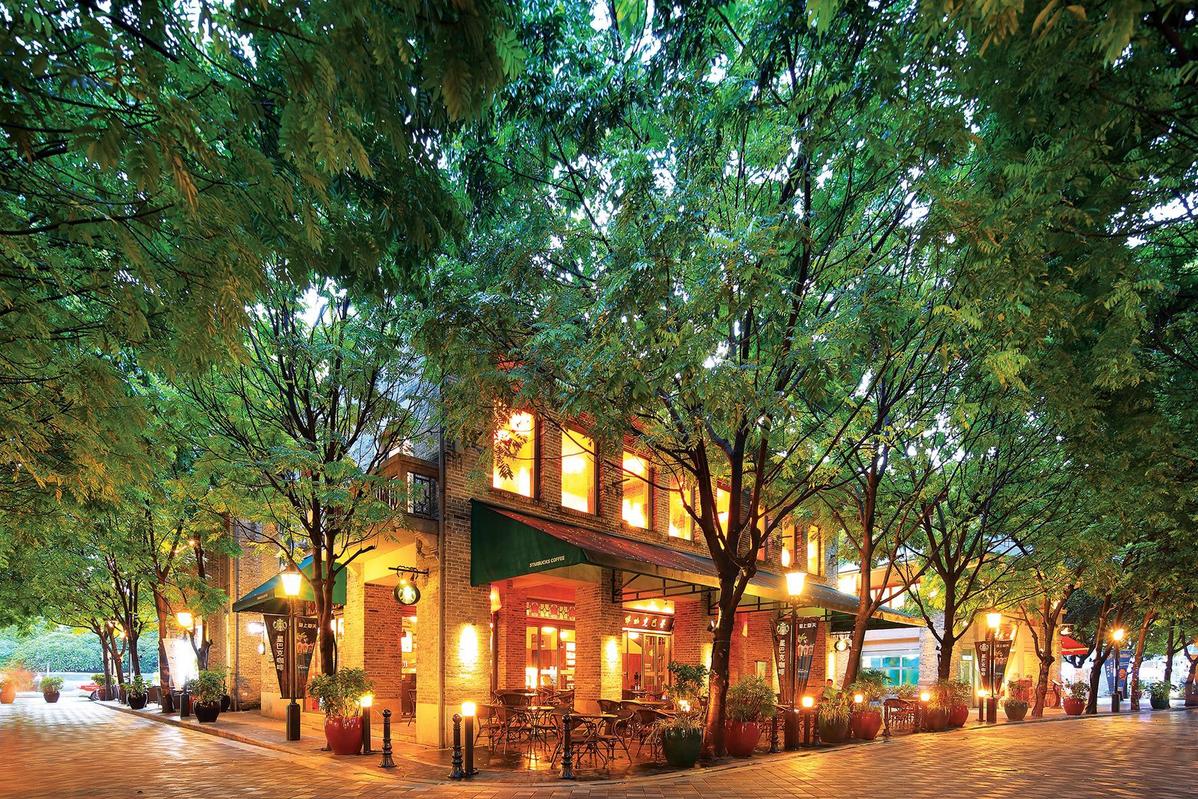 Lingnan Tiandi Commercial Zone. [PHOTO PROVIDED TO CHINA DAILY]
Lingnan Tiandi Commercial Zone
Location: Chancheng district
Highlight:
A combination of an old residential area with a youthful and international vibe; nighttime leisure; local snacks.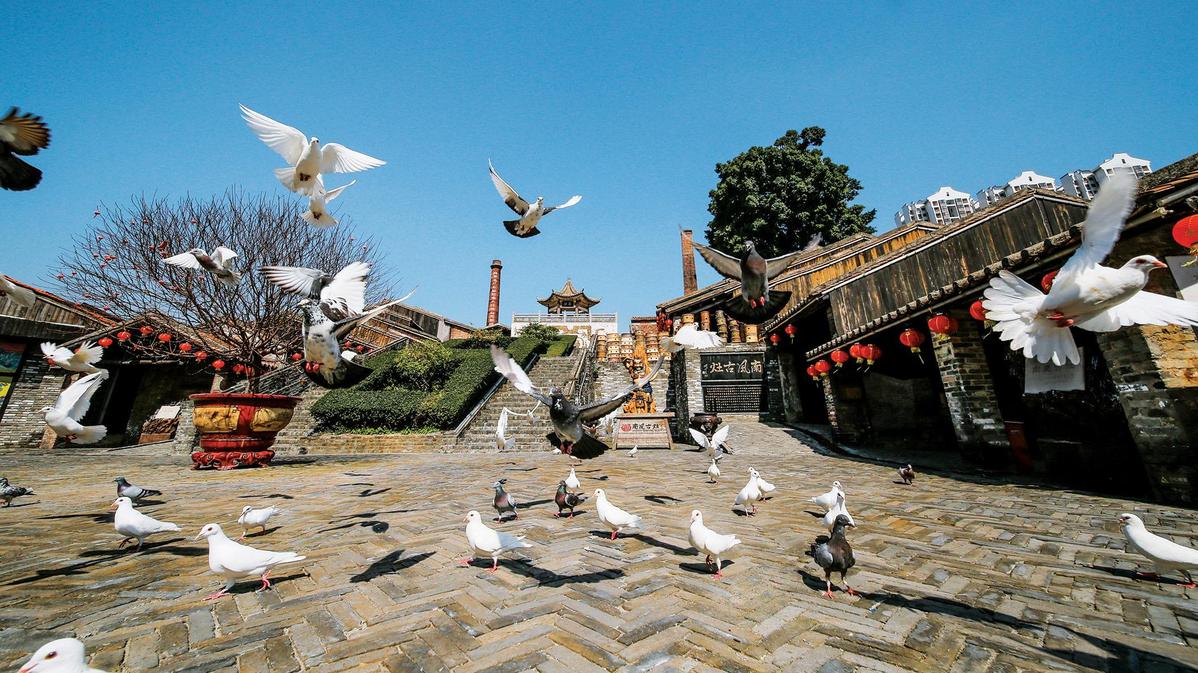 Foshan Nanfeng Ancient Kiln tourist area. [PHOTO PROVIDED TO CHINA DAILY]
Foshan Nanfeng Ancient Kiln tourist area
Location: Shiwan town
Highlight:
A history of more than 500 years; one of the best-preserved firewood dragon kilns in the world; ceramics experience.