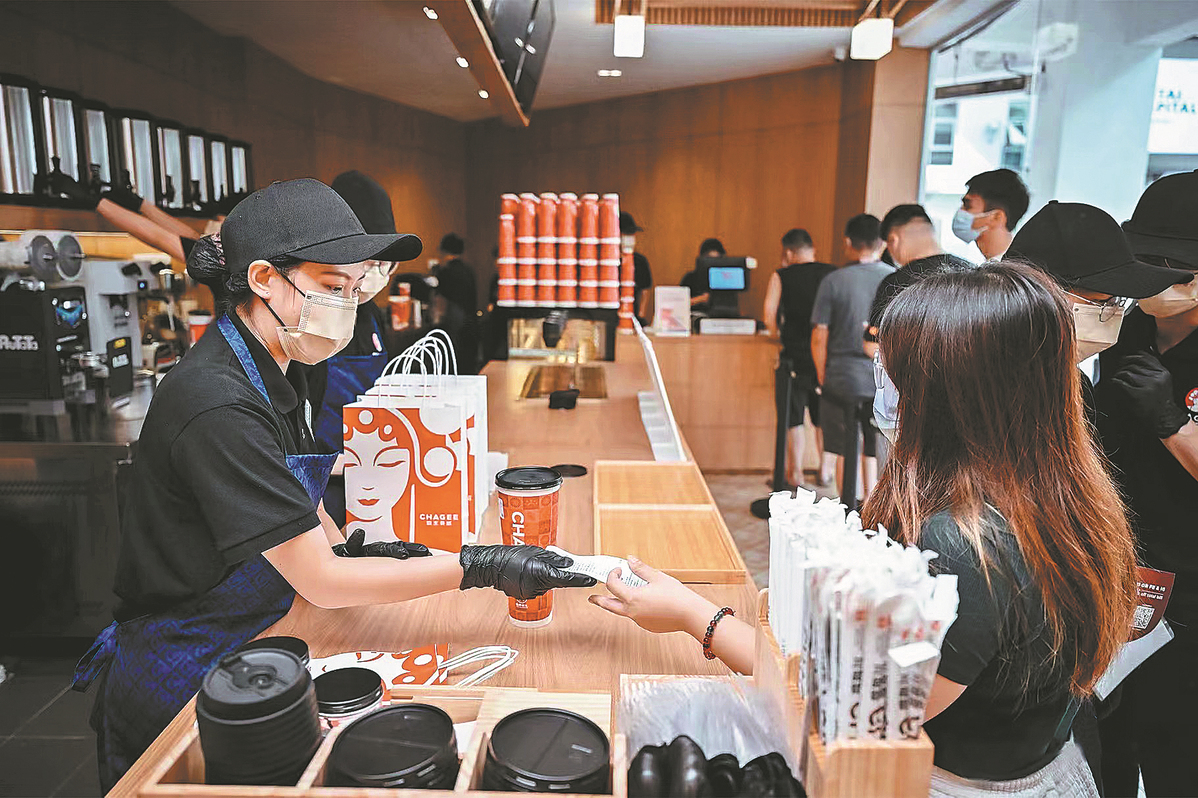 Chinese tea and ice cream brand Mixue's first store in Australia, which officially opened in downtown Sydney on Feb 25, is attracting long lines of customers.
Located in the World Square Shopping Centre, the store earned revenue of about 24,000 yuan ($3,463) during its soft opening two weeks earlier.
On the Xiaohongshu lifestyle platform, user "xiaoning" said that during the soft opening from noon to 10 pm, long lines kept forming at the outlet, with some customers waiting more than three hours for a cup of milk tea.
On Christmas Eve, "Snow King", Mixue's brand figure, appeared in Tokyo clad in a red cloak and cruising in an open-top car to celebrate the opening of the company's second store in Japan.
New-style Chinese tea brands are continuing to expand overseas, turning in eye-catching performances. They are mainly targeting Southeast Asia, and in addition to promoting Chinese culture, they embrace local pop culture.
Since a new wave of these brands began exploring overseas markets in 2018, Southeast Asia has been their first option, as they see market potential in the region due to its large number of young customers.
In 2018, Chinese tea makers Heytea and Nayuki entered the Singaporean market. The same year, Mixue chose Hanoi, the Vietnamese capital, for its first overseas foray. On the first day in the city, the store sold nearly 1,400 cups of tea.
A year later, Chinese tea brand Chagee, which was founded in Yunnan province in 2017, chose Kuala Lumpur, capital of Malaysia, to expand into Southeast Asia. The brand has gained widespread popularity in that country, where it now boasts 50 stores.
Shang Xiangmin, co-founder of Changee, said the average monthly income at one of the company's stores in Malaysia is about 300,000 to 400,000 yuan, some 1.5 to two times higher than the figure for the domestic market.
"Malaysia has a tea-drinking culture, and as its per capita consumption level is higher than those of many other countries in Southeast Asia, people are more open to accepting new products and flavors," Shang said, adding that customers in the region prefer to drink tea in a store instead of taking it away.
"Around one-third of our stores in Southeast Asia are located in shopping malls, half are on streets, and the remainder are based at transportation hubs such as airports," Shang said.
He added that although the market for tea in the region has a solid foundation, it is not as developed as the Chinese mainland's in terms of product variety and categories.
"In Southeast Asia, customers prefer sweet milk tea, while in China, they now tend to go for options with less sugar, or fruit tea," Shang said.
"We are positioning ourselves as a high-end milk tea brand in the region, but it takes time to win customers over. As we open more stores in Malaysia, local customers will realize we are a chain brand, not a single milk tea outlet," he added.
With Malaysia, Singapore and Thailand as its main overseas targets, Chang said Chagee plans to research the United States market this year.
The name Chagee originates from the ancient Chinese dramaBawang Bieji, also known asFarewell My Concubine, and brand's logo features the figure of ahuadan(a young woman in Peking Opera).
In its overseas stores, Chagee showcases traditional Chinese culture by including elements of Chinese opera in the decor and also in the packaging of its drinks.
"The names of our tea products are based on the titles of Chinese poems. On our menu, we categorize products based on the type of tea, which is one of our ways to introduce Chinese tea culture," Shang said.