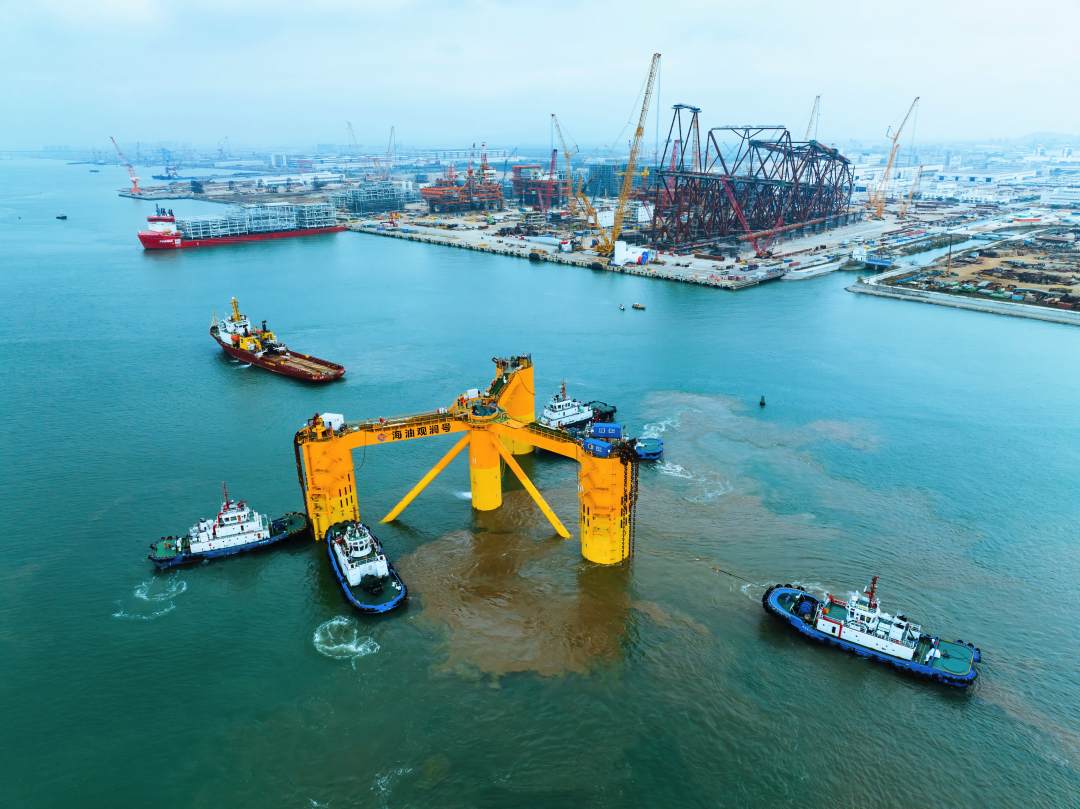 China's first far-reaching floating wind power platform left Lufu Wharf in Zhuhai of Guangdong province for the waters of Wenchang in Hainan province for installation and commissioning on Sunday morning.
The platform named CNOOC Guanlan, with an installed capacity of 7.25 megawatts, will be used in the offshore oil field waters, 136 kilometers away from Wenchang, according to a China Central Television report on Sunday.
CNOOC Guanlan is the first floating wind power platform in China with a working distance of more than 100 kilometers from the coastline and a water depth of more than 100 meters, it said.
The platform reaches the international advanced levels in terms of multiple indexes, including investment per MW, steel consumption per MW, and capacity of a single floating wind turbine.
After the project is put into operation, the electricity generated by the wind turbines is connected to the power grid of the offshore oilfields through dynamic submarine cables for the production of offshore oil and gas fields, said the report.
When the platform starts operation, it will be able to annually generate an average power of more than 22 million kWh, saving about 10 million cubic meters of fuel gas annually.
The bottom of the platform is a triangular floating foundation assembled from 30 steel structural modules, including three side columns and an intermediate column.
The overall side length of the platform reaches about 90 meters, with the height coming to about 35 meters. Its weight hits 4,000 metric tons.
Above the floating foundation is a cylindrical column which comes to 83 meters high, equivalent to a 30 story building. And above the column is a cabin weighing up to 260 metric tons, and its function is equivalent to the brain of the wind turbines, which can command and direct the wind turbine to rotate and pitch.