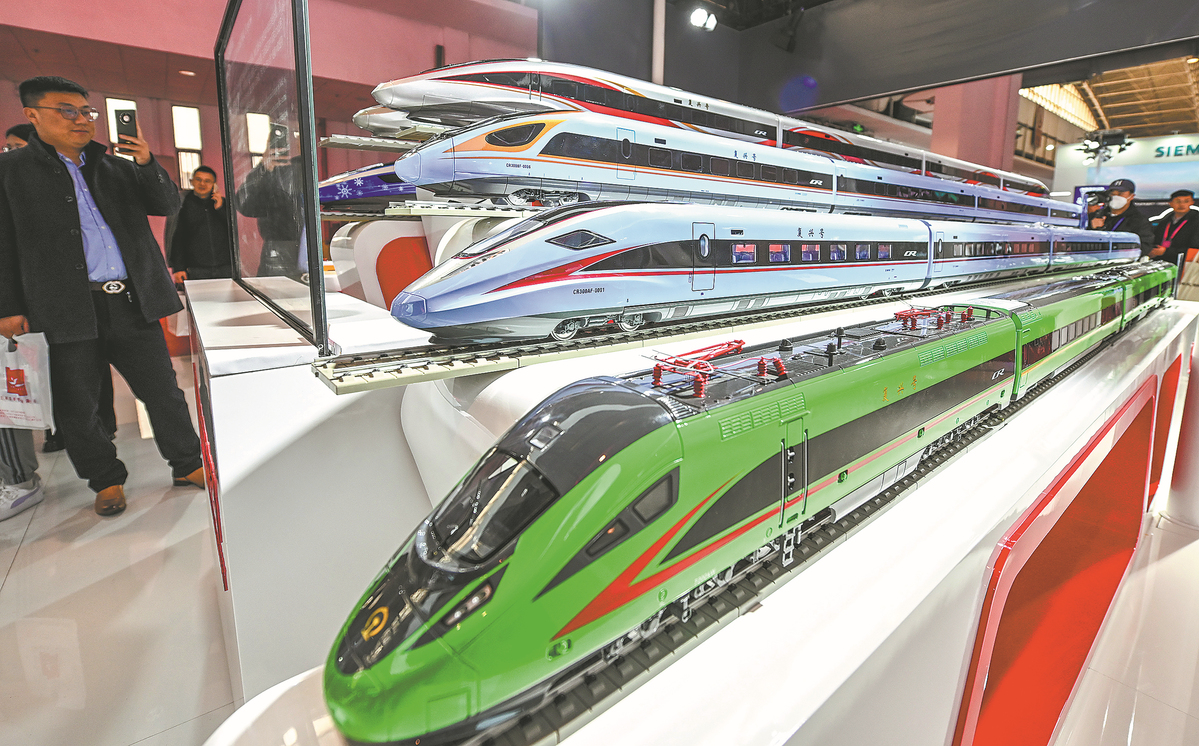 Visitors examine models of the Fuxing series of high-speed trains at Modern Railways 2023, an exhibition of the latest railway technologies, in Beijing on Tuesday. The exhibition, participated in by some 400 enterprises from 14 countries and regions, featured forums on topics such as digitalization and logistics. BAO GANSHENG/FOR CHINA DAILY
On the back of its successes in delivering on rail projects in several countries involved with the Belt and Road Initiative, China's rail heavyweights are confident in the market for future projects in a growing number of countries.
As many as a dozen countries have expressed interest in cooperating with China on rail projects, according to remarks made at a forum on the sidelines of the expo Modern Railways 2023 in Beijing on Tuesday.
"Some countries where China has built major infrastructure projects have expressed their desire for the Chinese team to remain and continue to cooperate with them on new railway projects or in upgrading current lines," said Ju Guojiang, president of China Railway International, a subsidiary of China State Railway Group, which oversees overseas railway projects.
Recently, some countries in Southeast and Central Asia have actively engaged with China in the hopes of collaborating on the construction of new railways, Ju said, adding that the ongoing development of these projects serves as an excellent driving force in promoting the BRI.
"Through such projects, we can share China's advanced railway technologies and standards with the world," he said.
"China's high-speed railway development is at a leading level in the world," said Zhao Xianghong, deputy director of the science, technology and information research institute of the China Academy of Railway Sciences.
Since China's very first high-speed railway came into operation in 2008, the scale of China's high-speed rail network has exploded to cover 42,000 kilometers, accounting for more than 70 percent of all high-speed railway lines in the world.
"The biggest advantage of Chinese rail going global is that we have a comprehensive system, inclusive of all elements and the entire industry chain," Ju said.
"It means that China can offer a comprehensive plan, including surveying, design and construction, as well as providing all supplies and materials. We can also offer operating plans following the railway's opening," he said.
In recent years, a number of Chinese railway projects have come online overseas, such as the China-Laos Railway, the Belgrade-Novi Sad section of the Serbia-Hungary Railway, and the Jakarta-Bandung High-Speed Railway.
The local partners have spoken highly of the projects and their cooperation with China.
Dwiyana Slamet Riyadi, president of PT Kereta Cepat Indonesia-China, a joint venture that worked on the Jakarta-Bandung High-Speed Railway, said he hopes the railway can bring a new and efficient lifestyle to Indonesia.
The line has reduced travel time between the two Indonesian cities to 40 minutes from more than 3 hours.
Marko Jeremic, head of infrastructure at Serbian Railways, said: "The collaboration with the Chinese companies made it possible for us to be the leader in the western Balkans, introducing the high-speed line.
"In that way, we became the leader because no other neighboring countries — Croatia, Hungary and Bulgaria — have the high-speed lines over 160 km per hour," he said.
China's railway sector has continued to strengthen international cooperation, upholding the principles of being of a high standard, sustainable and beneficial to people, to better serve the BRI and share experiences with the world, according to China State Railway Group.