On April 27, the Menjoy Furniture Intelligent Production Base officially started construction in Longjiang Town, benchmarking the achievement of Longjiang Town's acceleration in industrial development.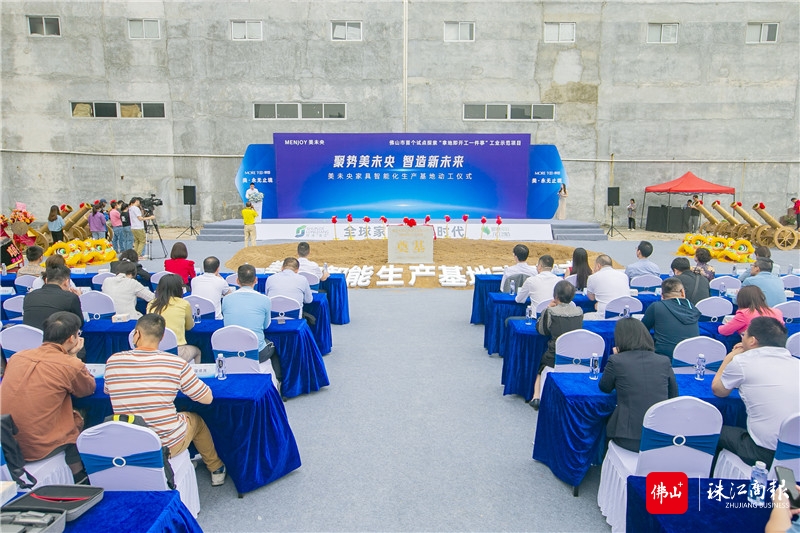 With a total investment of 180 million yuan, the project covers a land area of about 15 acres and a planned construction area about 30,000 square meters. Planned to build a furniture production base integrating digital production, smart office, product display, R&D and training, the annual output value of this project is expected to exceed 180 million yuan with the tax revenue not less than 6 million yuan.
Notably, this project is the first pilot project of the new fast land acquisition and construction policy, highlighting the government's determination to build a service system with the simplest processes. Shunde takes the lead in Foshan to implement the fast land acquisition and construction policy, and in the future, it will realize the normalized coverage of the new policy, simplify the approval processes for construction, and help enterprises accelerate their production.
The furniture industry is the pillar industry of Longjiang. In the past two years, 16 furniture and supporting industry projects have settled in Longjiang, with a total land area of more than 680 acres, an investment of more than 6.6 billion yuan, and an estimated output value of more than 5.8 billion yuan. Longjiang has also been striving to create better business environment by establishing direct connection system between the government and enterprises.
In the first quarter of 2022, there have been 9 projects settled in Longjiang, with a land area of over 182 acres and total investment of 2.46 billion yuan. Liu Haoran, deputy mayor of Longjiang Town, said that government will make every effort to build Longjiang the friendliest manufacturing town, providing enterprises services with the greatest enthusiasm and the highest efficiency.

Reporter | Tang
Revisor | Linn
Photo | Zhujiang Business